New Year Clean Resolution: Clean Up Easily, Live Up Happily
12/28/22
by
Tineco Lifestyle Contributor
Everyone loves starting up the new year on a fresh page. Who wouldn't? A fresh page makes achieving our goals for the year easier without having any of the previous year's baggage slowing us down. The same goes for keeping a clean home. If one of your goals this year is to have a cleaner home, then doing some new year cleaning should absolutely be at the top of your list of priorities. Not sure how to go about this? We've got you covered!
What You'd Need
To get you meet your clean resolution and start your new year with a sparkling clean home, you'd need the following:
ž Cleaning Gloves
The aim is to clean your home, not dirty your hands! You'd need your cleaning gloves to make that happen.
ž Duster
You'd definitely need to do some light dusting, a cleaning cloth might do the trick, but a duster is a much better choice.
ž Scrubbing Sponges/Brushes
You'd need to do some thorough scrubbing too. Nothing beats a good scrubbing sponge or brush for that.
ž Multi-purpose Cleaning Spray
Want to get your furniture looking good as new? Multipurpose cleaning sprays should be your best friend.
ž Window and Glass Cleaner
Your windows and mirrors need to be cleaned too. That's where the window/glass cleaner comes in!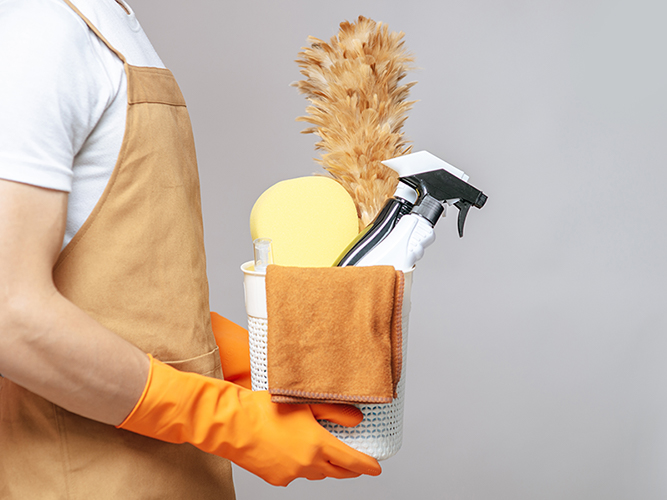 ž Vacuum
There is definitely going to be dirt lying around somewhere. The vacuum is the best tool to use to get them out.
Looking for a great vacuum to use? Here we recommend PURE ONE S15 PRO, which is perfect for people who suffer a lot from cleaning hairs. With its ZeroTangle technology, this smart vacuum can deal with hairs easily and effectively. If you are a pawrent who has always been bothered with pet hairs, make sure to check this link out!
If you're looking for a vacuum that can do multiple jobs for you, this FLOOR ONE S5 Combo Power Kit is your best choice. With multiple attachments, FLOOR ONE S5 Combo Power Kit can be converted to vacuum or mop in one simple step, meeting your different cleaning needs.
Carpets are great especially in winter. However, carpets are also great at collecting dust and muds, you'd need a carpet cleaner to get rid of all the dirt it has acquired throughout the past year.
A carpet cleaner like the Tineco CARPET ONE Smart Carpet Cleaner makes doing this much easier. Its heated wash system eliminates stains easily and allows for faster drying. It also comes with a lift-off spot cleaner with an 8-feet long hose which can be used to remove tough stains as well as clean elevated spots like stairs and couches.
ž Soap and Water
What type of cleaning would it be without this on the list?
Got all of that? Great. Now let's get to work!
New Year Cleaning in 7 Easy Steps
Thoroughly cleaning up the entire home can be a real challenge. If it wasn't, we'd all do it every day. Planning your cleaning takes the stress out of the entire process helping you know where to start and how to approach cleaning. A cleaning schedule can help with this.
Here's a whole-house cleaning schedule in holidays you might like.
Once you have your schedule ready, it's time to actually start cleaning. Before you jump to it though, get ready for the task at hand. Put your gloves on and get the equipment you need ready. Cleaning tends to be much easier when you have everything ready before you get started.
ž Step 3 – Clear Out the Trash
Clearing out the trash is the very first step in cleaning to avoid unwanted obstacles in following process. This is where you separate those items in the room that you find useful from those you don't. Since it's the New Year, try to be as determined as possible when cleaning up the trash.
With the trash out of the way, dusting would be much easier to do. Take out your duster and dust everything that needs dusting. This means your furniture, home decor, picture frames, television, and other appliances. You want to get this done BEFORE vacuuming so you do not end up introducing dust to the ground after vacuuming or cleaning your carpet.
ž Step 5 – Get the Cleaning Sprays and Soap Out
It's now time to clean the surface of your furniture, decor, windows, mirrors, and so on. Apply your cleaning spray to your furniture and your glass cleaner to any glass or mirror with your cleaning cloth. Some other surfaces in the house (your sink for example) require traditional soap and water cleaning; that's where your soap and the brush come in!
ž Step 6 – Put the Vacuum, Mop and Carpet Cleaner to Work
Here come the big guns! Get your vacuum and carpet cleaner out. Make sure to move your furniture when using your vacuum or carpet cleaner so you can also clean out those places the furniture would have made it impossible to use.
Your Tineco vacuum cleaners are the perfect tools here. The PURE ONE S15 PRO is a smart cordless vacuum cleaner perfect for picking up dust around the house. Besides its anti-tangle brush, the iLoop smart dust sensor can help detect the mess automatically and adjust the suction by itself, helping you with longer runtime to deal with your whole house cleaning.
If you are looking for a vacuum cleaner that offers more options though, the FLOOR ONE S5 Combo Power Kit is the perfect choice for you. This wet dry vacuum cleaner can be effortlessly converted to various types of vacuum cleaners for greater versatility. From a typical vacuum cleaner to a handheld power brush and even a crevice tool, this combo kit can meet all your vacuum needs. In other words, not only can this be used to mop the floor but can also be used to vacuum your couch and other pieces of furniture.
Tineco CARPET ONE Smart Carpet Cleaner equipped with HeatedWash technology can be your ideal carpet cleaner in winter. The PTC heater keeps water temperature at 104℉ during cleaning so that the stains and grime can be removed easily. Furthermore, the DRY mode of this machine can powerfully extract residual water from your carpet and leave you with a completely fresh and dry carpet in no time.
You don't want to leave your house wet and tight sealed after cleaning. Ventilation and drying is also an important part of the process. Open your windows and doors widely, let fresh air come in and circulate.
And that's it. Your New Year Cleaning in just 7 simple steps. See?
It's not THAT hard to get your home cleaned and ready for the new year. All it takes is a little planning, the right equipment like Tineco vacuum, and a resolution to start the new year with a clean home. Give it a try and it might just surprise you.
Good luck!

You don't want to miss our latest blog post!