PURE ONE S15 PRO VS Pet VS Essentials: Which One is My ONE?
01/30/23
by
Tineco Lifestyle Contributor
Introduction
New year, new you, new……cleaning habits? You bet! So you've already made the decision that Tineco is your best choice. You've even narrowed down to the specific series of vacuum you like the look of (the PURE ONE S15 Series, of course!). Now the tricky part begins – which S15 Series is the right one for you? They are all some of the best cleaning tools on the market, but there are a few subtle differences to consider to make sure you really get the most out of your investment.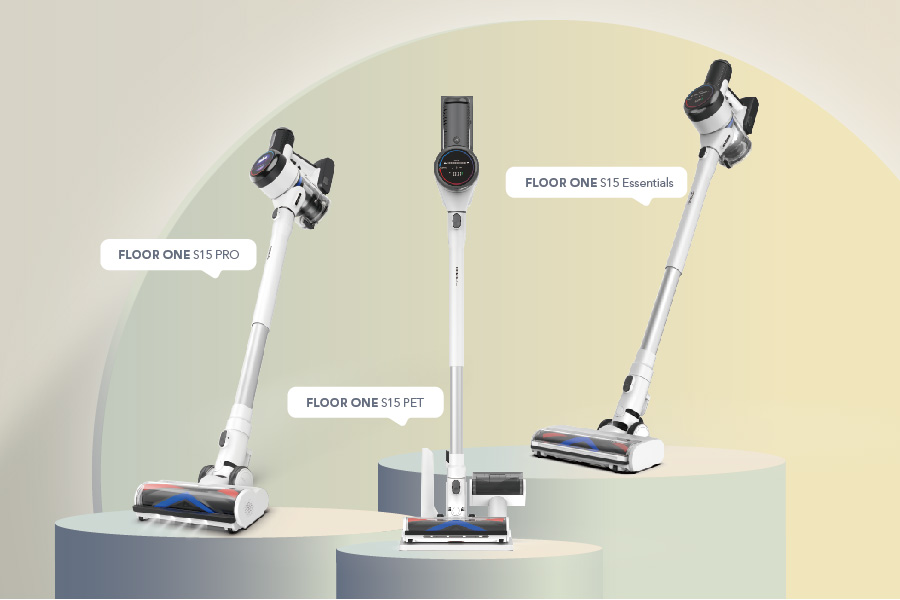 Why should you choose the S15 series, anyway?
This is a great question. We already mentioned above that it's a great, versatile, all-round cleaning assistant, but what makes it so? Before we look at what makes each of the three S15 versions special, what makes the S15 special?
As they are from the same series of PURE ONE, they share several great features. They all come with the Tineco patented-and-exclusive iLoop Smart Sensor, meaning the machine is able to constantly adjust its suction power in real time, depending on the mess it detects. Why's this a great innovation? Because it allows up to 4 times longer runtime! Get more of your home cleaned without pesky interruptions like…. Flat batteries!
The S15 family also all feature strong suction, which doesn't fade over time because the vacuum motor has PureCyclone Technology which also means that maintenance is a breeze.
There's a 5-stage filtration system, and all you have to do is rinse a few of those filters once a month or so to keep your machine in tip-top condition. Speaking of that 5-stage filtration system; it means that any air released from your S15 is clean and free of allergens, so that you and your family (including fur babies!) can breathe easily.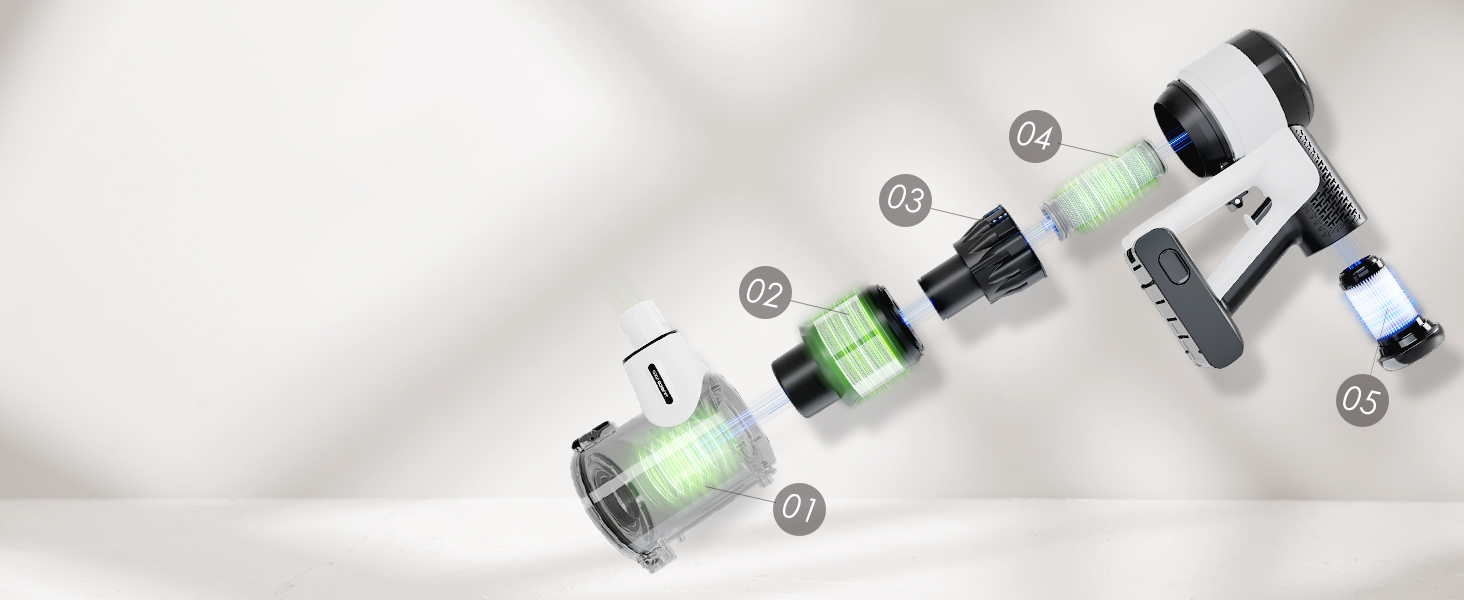 What's more, when the cleaning is done, and the dustbin needs emptying, all you have to do is hold it over the bin, pull the trigger, and the dustbin trapdoor opens and the debris falls out. Keep your hands clean, and replace the vacuum onto its FreeStnd install-free charging base.
The $64k Question – PRO, Pet, or Essentials?
Now for the nuts and bolts! PRO, Pet, or Essentials? It stands to reason that of course these three versions are separated by price; PRO having all the bells and whistles, and being the most expensive; Essentials being…. Exactly that, and being the cheapest; and the Pet occupying the middle ground.
The S15 Essentials is already quite a unit, purely because it wears the S15 badge. If all you are looking for is an affordable, powerful, quiet vacuum for daily cleaning, it's hard to overlook this one. Especially if you live in an apartment, don't have pets, and yourself, don't shed much hair. Whether you have carpet or hard-flooring, this vacuum doesn't discriminate. It's simple and it gets the job done – well. But read on, if you have pets, hair, a larger home, or simply enjoy having the best.
Perhaps you can guess who would get the most out of the S15 Pet from the name alone. That's correct – pet owners. How does the S15 Pet benefit pet owners? One/two words! ZeroTangle. The S15 Pet comes with the all-new ZeroTangle brush, which is genius by way of its simplicity. A dual comb design, and a V-shaped brush, cleverly integrated into the roller ensures hair tangling is a thing of the past. And we've all experienced hair tangles when vacuuming. The difference is that now, thanks to the S15 Pet, we don't need to. And just to hammer home that point, the S15 Pet also comes with a mini power brush which is great for upholstery and mattresses and the like, as it enhances the suction power and ensures maximum hygiene. It's also the perfect accessory to use when the S15 is configured as a handheld unit, for maximum maneuverability.
Last but not least, we have the Cadillac of the S15 world – the PRO. It, quite simply, has everything. Including handy animations on the even-more-advanced LCD screen. One of the coolest features of the S15 PRO is smart app integration. Receive notifications, monitor your cleaning stats (hey, the gamification of cleaning motivates a lot of people!), and connect with our helpful customer support, all from the palm of your hand.
Conclusion
Well, I know which S15 I'm putting in my shopping cart. There is one for everyone, and hopefully with the above guide it's clear for you, too. If you already have a stick vacuum and you're looking to upgrade to the best, this is a great choice. If you are new to the world of stick vacuums and you're starting out with a Tineco PURE ONE S15, then strap yourself in – your life is about to change for the better.

You don't want to miss our latest blog post!