Autumn Allergy Relief: 5 Effective Tips to Beat Seasonal Allergies
09/20/23
by
Tineco Lifestyle Contributor
As the leaves change color and the air turns crisp, many of us eagerly wait to welcome the beauty of fall. While this season never fails to amaze us with its aesthetic magnificence, it also leads to the unwelcome return of allergies. Plants like dreaded ragweed may turn this picturesque time of the year into a sneezing nightmare and trigger seasonal allergies.
Seasonal allergies, also known as hay fever, are your body's immune system overreacting to environmental substances. In the fall season, ragweed pollen levels soar, peaking in early to mid-September. With its bland appearance, Ragweed is an unsuspecting culprit that produces a billion pollen grains as a single plant.
If you want to enjoy this season but are worried about being caught by seasonal allergies, don't fret! In this blog, you will discover tips for preventing allergies and products that will help you eliminate them.
Tips to Say Goodbye to Allergies 🍁
Monitor Pollen and Mold Counts
Before you plan any outdoor activities, check pollen and mold counts in your areas. You can plan your little outdoor adventure through numerous apps and websites with real-time updates.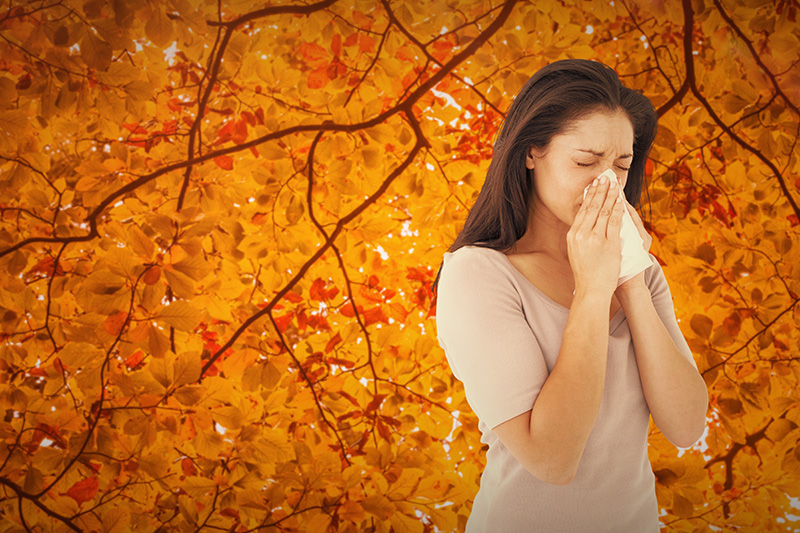 Wear a NIOSH-rated 95 Filter Mask
Protect yourself with a NIOSH-rated 95 filter mask when outdoor pollen levels are high. It acts as a barrier against airborne allergens, providing much-needed relief.
Shower Promptly After Returning Indoors
After spending time outdoors, take a shower promptly. This will wash away any pollen clinging to your skin and hair, preventing it from spreading indoors.
On days when outdoor air pollution rates are elevated, keep windows and doors tightly shut to prevent allergens from infiltrating your home.
Maintain indoor air quality by engaging in regular cleaning. Dust and allergens accumulate over time, so vacuuming, dusting, and wiping surfaces can significantly reduce allergy symptoms.
Tineco for Cleaner Air - PURE ONE S15 PRO 🍁
Regular vacuuming is the best way to remove dust and debris that can trigger symptoms. Bring TINECO PURE ONE S15 PRO smart stick vacuum cleaner to your home that fights against allergens, ensuring to keep your family allergen-free.
Why you need a PURE ONE S15 PRO smart stick vacuum cleaner?
1. Five-Stage Filtration for fresher air: Equipped with a HEPA filter, the 5-stage filtration system captures up to 99.97% of dust and debris as small as 0.3 μm. After cleaning with the PURE ONE S15 PRO, you'll breathe more freely, knowing your home is non-allergenic.
2. Multiple Tools for Whole-House Cleaning: This versatile stick vacuum can transform into a lightweight hand vac, making it easy to clean upholstery, corners, tight spaces, and every nook and cranny in your home. Say goodbye to hidden allergen hideouts!
Tineco for Allergen-free Carpets - CARPET ONE PRO 🍁
Cozy and inviting carpets are home to allergens such as dust, mites and even mold. If you are prone to allergies, make a habit of cleaning your carpet regularly with TINECO CARPET ONE PRO Smart Carpet Cleaner. Say goodbye to the troublesome and expensiveness of scheduling and hiring carpet cleaning company. This product can help you breathe freely in your home at any time you want.
Why CARPET ONE PRO can help you eliminate allergens?
1. iLoop Smart Sensor: This carpet cleaner boasts an intelligent sensor that detects dirt and displays the dirtiness level on an LCD screen. You'll have peace of mind knowing that even hidden allergens won't escape its thorough cleaning.
2. Powerful Suction and Heated Wash: With 130AW powerful suction and 104℉hot wash, stains and germs will be removed quickly, and your carpets will be left like brand new.
3. PowerDry Technology: After cleaning, this carpet cleaning machine uses hot air to dry your carpets, preventing bacteria growth and eliminating post-cleaning dampness and odors. Your carpets will feel fresher and allergy-free.
Don't let allergies steal your joy, and make the most of this season by following the abovementioned tips. Say goodbye to constant sneezing and coughing and enjoy the beauty of autumn with Tineco's innovative cleaning solutions!

You don't want to miss our latest blog post!