Things you may want to know about your vacuum: What is HEPA?
02/23/23
by
Tineco Lifestyle Contributor
Does your vacuum have secrets?
Not so much a secret, but a fog of mystery! We see and hear "HEPA filter" all the time, but what is it? Why is it worth paying for? How does it help us? These questions, and more, will be answered below, because trust us – when you are enjoying your space the last thing you want to be worrying about is the safety of the air you are breathing.
What is HEPA?
So, let's start with what it stands for. High-Efficiency Particulate Air, and it basically represents the gold standard of filtration. That gold standard is a filter developed the United States' best scientists more than half a century ago, the captures at least 99.97% of airborne particles 0.3 microns in diameter. In actual fact, however, HEPA filters capture more than 99.97% of airborne particles when they are both smaller, and larger than 0.3 microns in diameter! But we keep seeing this word "micron" – how big is a micron? It's a unit of measurement which is rather small, to say the least. Keeping in mind that a HEPA filter is good for capturing particles 0.3 microns and above, a strand of hair is between 50-100 microns wide. HEPA filters are this effective with 0.3 microns, so you can see how great they work with the standard particle sizes of PM10 and PM2.5!
One thing to remember, however, is that there are many products on the market which advertise themselves as HEPA-type, HEPA-like or HEPA-style. Sounds great, but it's really just a copycat design which might have a filter with similar layers and materials to a HEPA filter, but ultimately doesn't meet the stringent standard set by the Environmental Protection Agency. HEPA filters only work if ALL air passes through them, whereas "HEPA-style" can't guarantee this.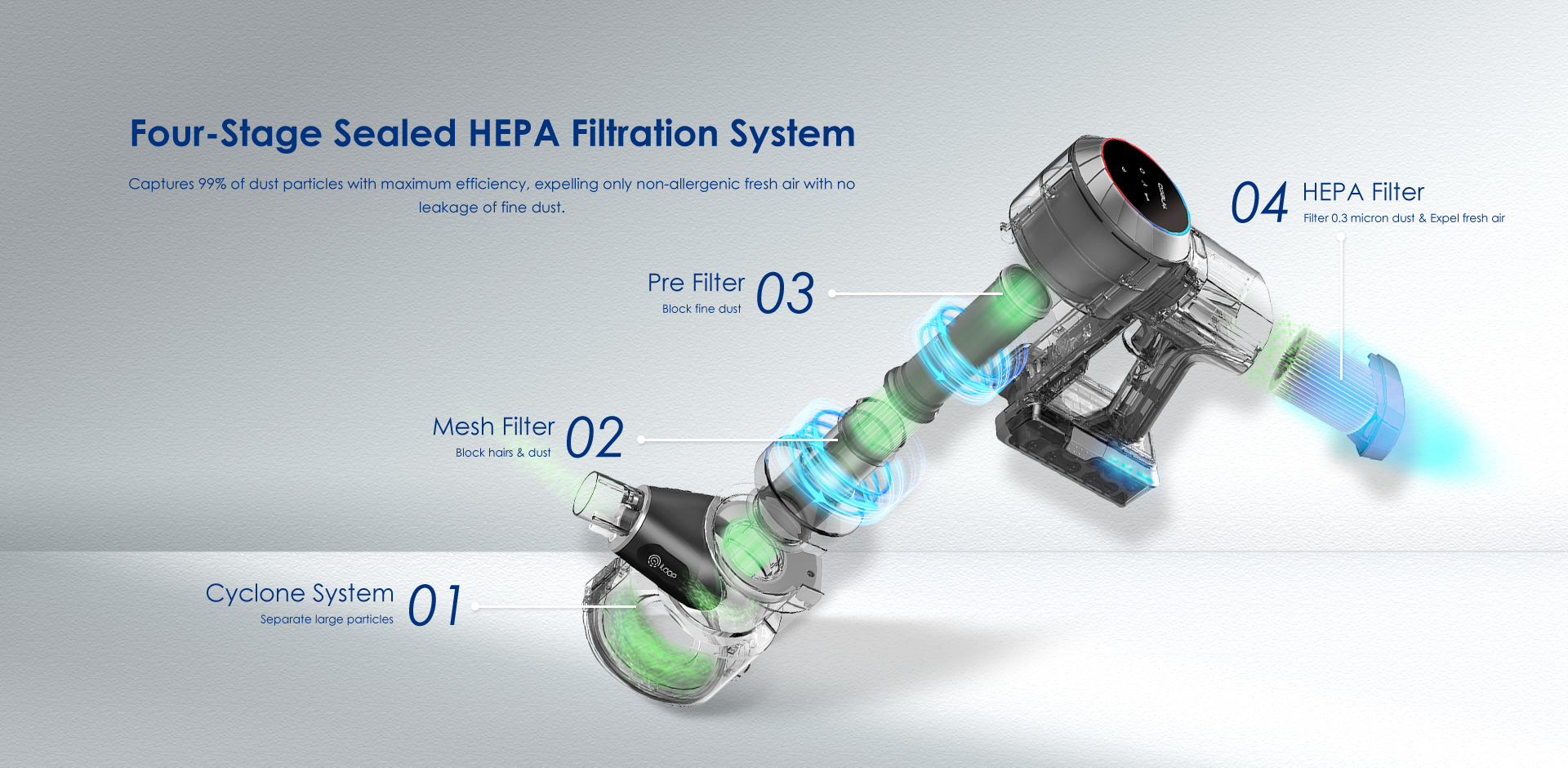 Why is HEPA filtration important?
So, we know that HEPA filtration incredibly good at blocking harmful particles up to 0.3 microns in diameter (when a strand of hair is 50-100 microns), and we know that there are quite a few HEPA-pretenders out there, but why would there be so many wannabes? Because HEPA filtration keeps you, your family, and anyone nearby safe from harmful, airborne particles! It's a fantastic selling point for a product, especially around the home where you spend so much time in an enclosed space, and it just so happens to be a genuinely important one. This isn't like selling snake oil – HEPA filtration makes your home's air cleaner and safer. Microscopic, airborne particles are mostly impossible to see, but can be inhaled and can be irritating or damaging to your health. Do you have allergies? Do you have asthma? You almost certainly need HEPA filtration in your vacuum cleaner, in your air purifier, or in any other appliance which is designed for air to pass through it.
HEPA and Tineco
Tineco and HEPA filtration go way back. As the designers, makers, and purveyors of premium, smart homecare products, we have understood from very early on how important safety, hygiene and health are to a happy home. Because of this, we use a Four-Stage, Fully-Sealed HEPA filtration system which, in keeping with the HEPA classification requirements, filters 99.97% of airborne particles which pass through – and they MUST pass through. What you get at the end of the cleaning process is nothing but clean, non-allergenic fresh air expelled from the vacuum, and into your home.
Here's three Tineco products from across the range to give you an idea of how broad your HEPA-filter equipped options really are:
-A11 Tango: one of our entry level cordless vacuums, the A11 Tango is lightweight, ultra-quiet, yet packs a punch in the form of strong suction, long runtime, and the complete array of handy attachments. Perfect for apartments, offices, and student accommodation!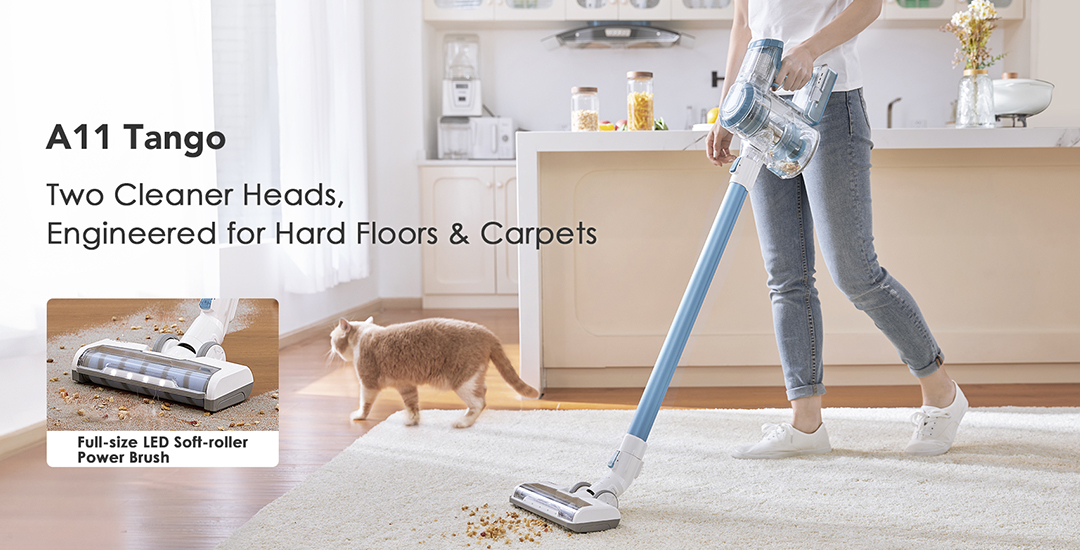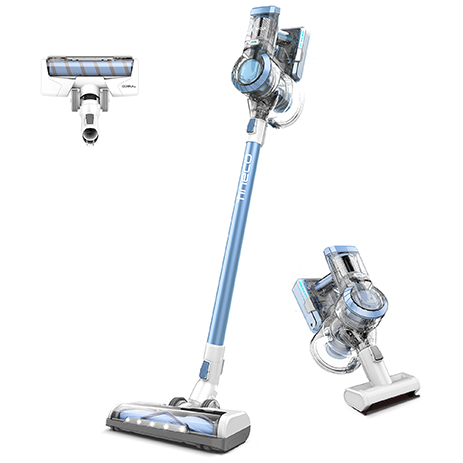 TINECO A11 TANGO STICK/HANDHELD VACUUM CLEANER
Two cleaner heads, engineered for hard floors and carpets.
- PURE ONE S11 Tango: sitting mid-range as a smart cordless vacuum, the S11 Tango comes with iLoop smart sensor technology, super-strong suction, app-integration and all the attachments you need for any cleaning situation.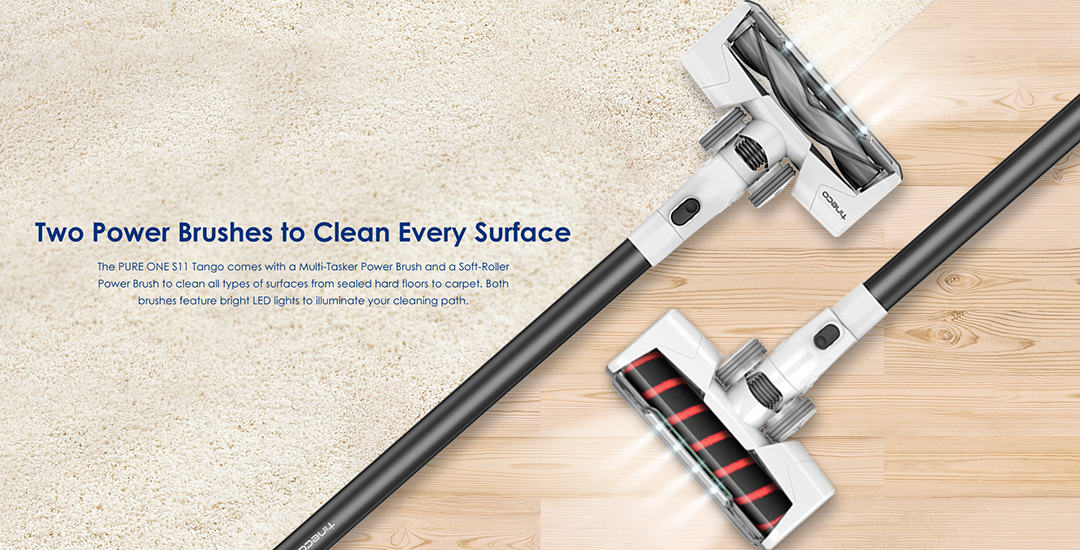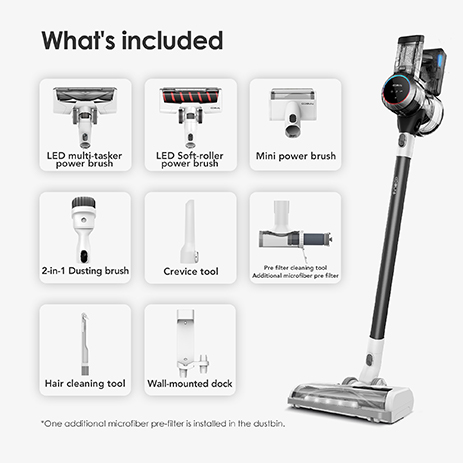 TINECO PURE ONE S11 TANGO SMART STICK/HANDHELD VACUUM CLEANER
Two Power Brushes to Clean Every Surface
- FLOOR ONE S3: a smart wet dry vacuum which has it all. Near the upper end of the Tineco range, this cleaning assistant features the patented iLoop, allowing for smart suction and water flow control, smart battery management, a self-cleaning cycle, a handy display screen and app integration. Perfect for homes with hard floors!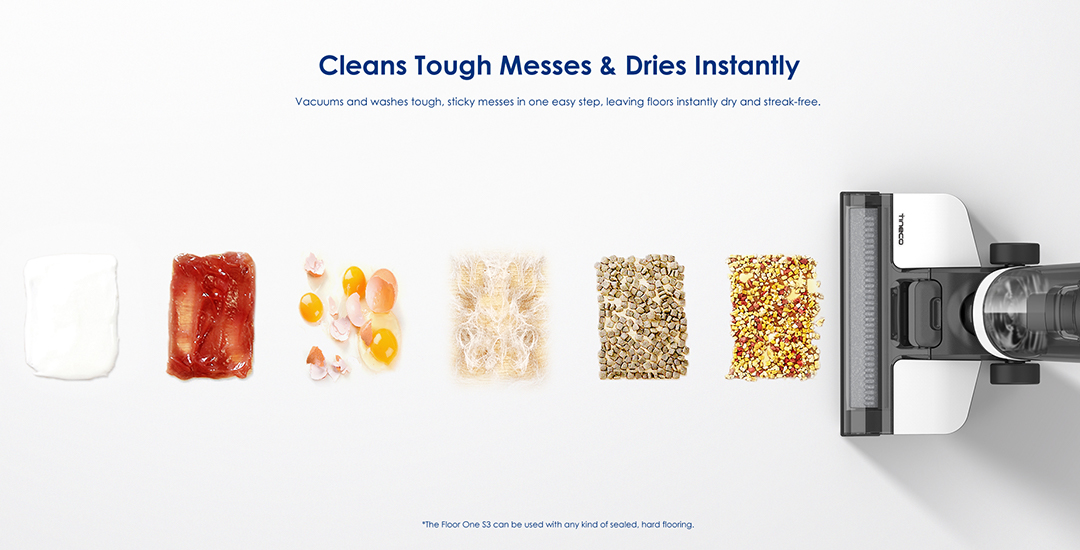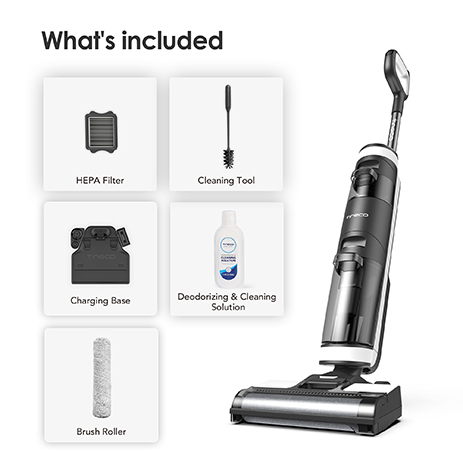 TINECO FLOOR ONE S3 SMART FLOOR WASHER
A Whole New Level of Clean. Detects, Vacuums, Washes.
Basically, no matter what your budget, or whichever kind of floor cleaner you are after, Tineco is the safest bet we have an amazing array of HEPA filter-equipped cleaning cordless, smart vacuums and floor washers, so you and your family can breathe easy!

HEPA in YOUR home?
Perhaps you live somewhere with poor air quality, and a HEPA helps you avoid allergens and illnesses? Maybe half your appliances already have a HEPA filter? Whatever your experience, let us know in the comment section about how this amazing technology has helped you lead a better life with safer, healthier air!

You don't want to miss our latest blog post!