All you need to know about floor steam cleaner: Benefits and Precautions
11/06/23
by
Tineco Lifestyle Contributor
If there's something worse than spending hours scrubbing and mopping the floors, it's the realization that those stubborn stains you wanted to get rid of are still there when you finish.
If this situation sounds familiar, it's time for you to trade your cleaning supplies in for a new floor washer—steam cleaner. Not only is it healthier for your home and your family, but it can save you time, and it offers numerous other benefits and features.
Floor steam cleaners are powerful tools in getting rid of dirt and stains on floors. If you're curious about what it has to offer, here's everything you need to know about steam cleaners.
What Is a Floor Steam Cleaner and How Does It Work?
A floor steam cleaner is a cleaning device that uses steam to eliminate dirt, stains, and odors, rather than relying on chemicals and manmade cleaning products.
While it sounds like a simple concept, a steam cleaner is actually a powerful, versatile device. The steam is so strong that it loosens dirt and kills harmful items like bacteria, mold, dust mites, and other allergens.
Each steam cleaner has a water tank attached to it. To use it, you simply fill it with water. The device heats the water based on the setting you choose, and once it's ready, you can start cleaning your floors. A hotter setting typically works best for stubborn stains and dirtier floors.
Many homeowners find that it's extremely simple and convenient to use, especially when compared to traditional mops that require a lot of extra effort and can become contaminated quickly.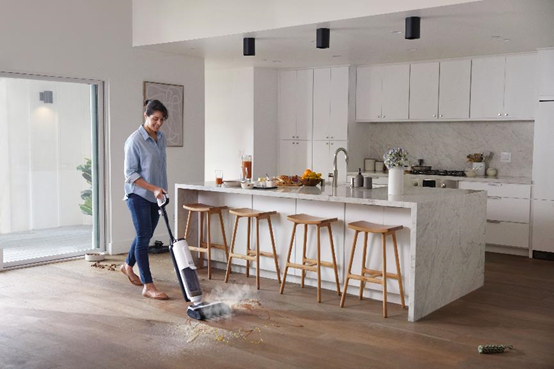 Benefits of Using a Steam Cleaner
1. Eco-friendly Cleaning
Choosing a steam cleaner over other traditional cleaning supplies offers numerous benefits. Because they simply use water rather than chemicals, they're eco-friendly which makes them great for your home and the environment.
2. Allergen Reduction
Despite the fact that they don't use chemicals, steam cleaners are quite effective at sanitizing your home. Not only do they get rid of dirt and dust, but they can remove harmful germs and bacteria that can make you sick. They also remove allergens so that you and your family can breathe easier at home.
3. Floor Versatility
You may use steam cleaning safely on many household surfaces such as sealed tile, hardwood floors, grout, and more. It's a great option for quick drying places that you need to use immediately after cleaning. Always remember to know if your floor is suitable for steam cleaning first before anything else so you won't damage your floors.
4. Time and Effort-Saving
Overall, using a steam cleaner saves you time and effort. You get rid of dirt and stains the first time you clean so you don't have to keep scrubbing.
How to Choose the Right Floor Steam Cleaner
The right floor steam cleaner makes cleaning easier. When shopping for one, you'll need to take some key features into consideration:
• Water Tank Capacity
• Attachments and Accessories
• Maneuverability and Weight
• Brand Reputation
• Budget
Water Tank Capacity
The larger the tank, the longer the cleaner will run without having to refill it, which is important if you have a large home or rooms with a lot of floor surface to cover. It is also important to consider the weight and flexibility. Larger tanks tend to be heavier and have less flexibility. Therefore, it is advisable to estimate your water requirements and purchase for a tank that suits your needs.
Steam Output and Temperature
When looking to effectively and efficiently remove stains, it is important to consider the temperature of the steam. A relatively high steam temperature is necessary for deep and quick stain erasure. Before purchasing a steam cleaner, it is recommended to carefully evaluate the steam output and temperature capabilities.
Maneuverability and Weight
The size and maneuverability is also important. If you have a smaller home or lots of furniture that you must navigate, look for a cleaner that swivels or rotates.
Brand Reputation
The brand of the cleaner you choose is also crucial in choosing the right floor steam cleaner. Search online for reviews and stick with reputable brands.
Budget
Steam cleaners come in a range of prices, so look for something suitable for your budget and your needs as well.
Tineco FLOOR ONE S7 Steam and FLOOR ONE S5 Steam
If you're looking for the best floor steam cleaner on the market today, the Tineco Floor One S5 Steam and Floor One S7 Steam are the perfect solution.
The FLOOR ONE S5 Steam is a steam floor washer with two modes: steam and auto. It offers features like the iLoop Smart Sensor, LED display, voice prompts, smart self-clean, and noise optimization. Basically, it can vacuum, wash and steam your floor in one step. It has a clean water tank capacity of 0.8L and dirty water tank capacity of 0.75L.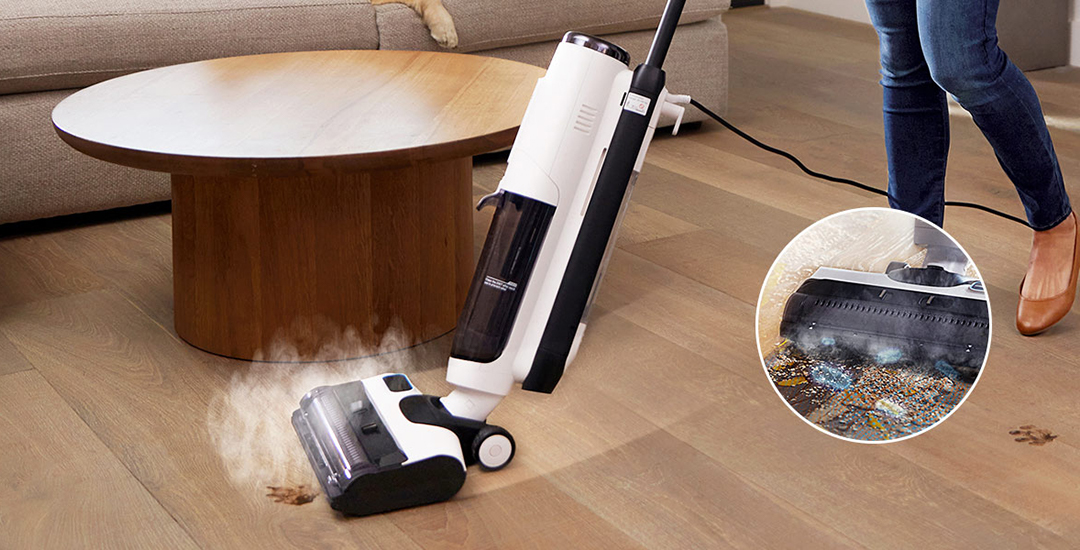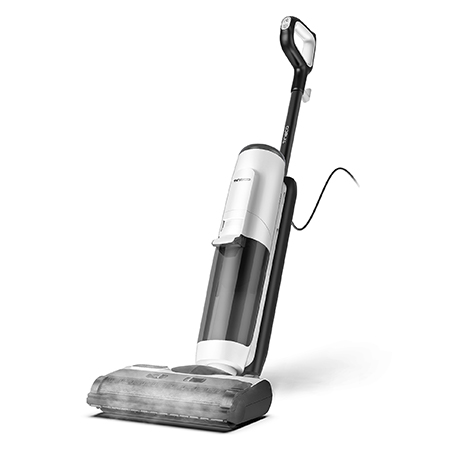 Tineco Floor One S5 Steam Smart Floor Washer with Steam
The all-natural way to vacuum, wash and sanitize
The FLOOR ONE S7 Steam model is a three-in-one mop, vacuum, and steam cleaner that boost steam reaches up to 284℉. The MHCBS system ensures clean contact of the brush to the floor, so every time you glide the device, there's no streak left on your floor. It's cordless, lightweight, and self-propelling so it's easy to maneuver around any space in your home, and it offers a 99.99 percent sterilization rate.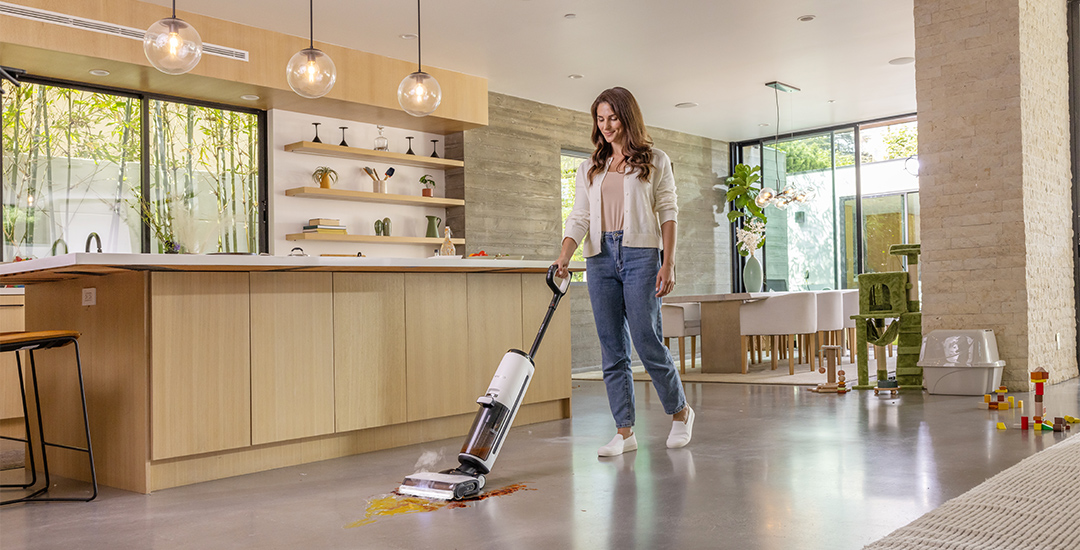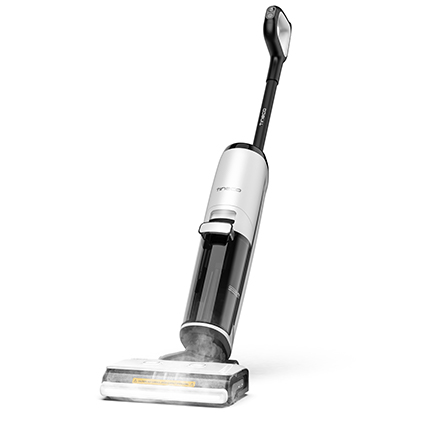 Tineco Floor One S7 Steam Smart Floor Washer with Steam
Deep cleaning with 284℉ Steam
How to Use a Floor Steam Cleaner
Using your floor steamer is as easy as 1-2-3! Plus, you won't have to assemble a lot of things. Just follow these steps:
Step 1: Fill the water tank. Use fresh, clean water.
Step 2: Start cleaning. You're ready to go. It's that simple.
Step 3: After use, you'll want to empty and rinse out your water tank to ensure no dirt or bacteria is left behind.
Of course, depending on the cleaner you choose, you should always consult with your manufacturer's instructions to make sure you aren't missing any additional steps.
Floor Steamer Maintenance + Safety Tips
As with any household item, it's important to operate your cleaner correctly. Not only does this keep you and your home safe, but it can help increase the longevity of the cleaner.
• Regularly empty and clean the water tank. This prevents the build-up of dirt, bacteria, and minerals from the water.
• Clean or replace mop pads regularly. You can typically buy replacements from the cleaner's manufacturer.
• Clean accessories and attachments. This will keep them working well and prevent dirt from building up and blocking them for future use.
• Descale if necessary, especially if you live in an area with hard water. Your owner's manual should have instructions for how to do this.
• Properly store your floor steamer. Never put the steamer away while it's still wet. Also, if your cleaner has a power cord, make sure it's wrapped up and secure so that it doesn't become damaged.
• Always follow any safety instructions provided by the cleaner's manufacturer.
• Conduct regular maintenance checks. If you spot any damage, take care of it immediately to increase the longevity of your steamer.
• Don't use it on unsealed floors. If your floors are unsealed, the moisture could do damage.
• Keep children and furry friends away. Never leave your kids or pets unattended with the steamer.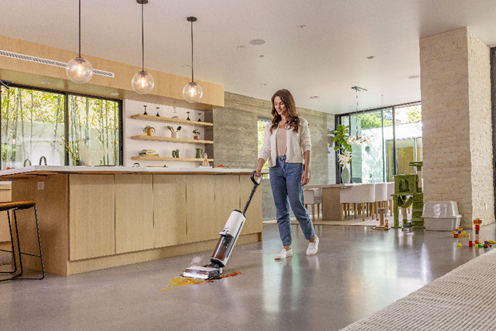 Frequently Asked Questions (FAQs)
Can you use a steam cleaner on unsealed floors?
No, using the steamer on unsealed floors can cause damage. It's better to test the product in a small, inconspicuous area first before you using steam cleaner on your hard floors.
Are steam mops safe to use on all floors?
No, while steam mops are quite versatile, the manufacturer will specify what types of floors yours is most suitable for.
How often should I clean the mop pads of my steam mop?
Clean your mop pads after every use. Otherwise, you run the risk of mold or mildew building up on the pads. With machines like the FLOOR ONE S5 Steam and FLOOR ONE S7 Steam equipped with a self-cleaning feature, the process can be hands-free and hassle-free.
Can you use a cleaning solution to a steam cleaner?
No, steam cleaners work with water alone. Using a cleaning solution can cause a build-up that will eventually damage the product.
Wrapping Up
Steam cleaners are exceptional home tools that simplify cleaning. Select a steam cleaner that aligns with your preferences and requirements. Enhance efficiency with dependable steam cleaners from Tineco.
As a frontrunner in steam cleaners and smart home appliances, Tineco aims to elevate daily living. For insights on our products, cleaning tips, tutorials, and exclusive offers, subscribe to the Tineco newsletter.

You don't want to miss our latest blog post!