TINECO REVOLUTIONIZES HOME CLEANING WITH FLOOR ONE S7 STEAM LAUNCH
All-New Floor Washer with Powerful Steam Capabilities Can Seamlessly Tackle Everything from Sticky Kitchen Spills to Pet Messes and More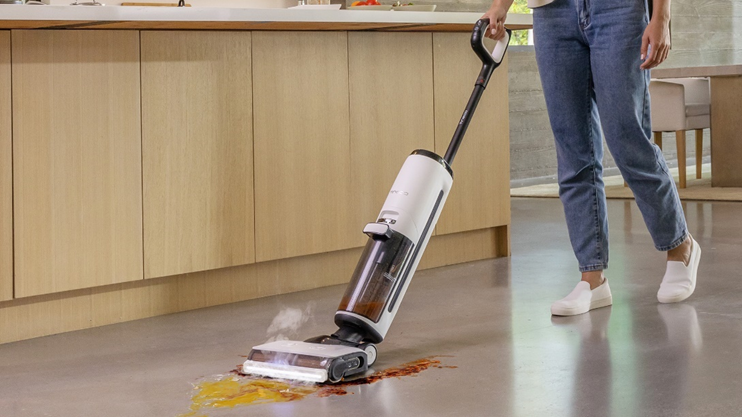 Seattle, WA (October 23, 2023) – Tineco, a global leader in intelligent home appliances with an emphasis on innovative floor care solutions, today introduces the all-new Floor One S7 Steam Cordless Floor Washer, offering a comprehensive solution for homeowners looking to achieve spotless floors with minimal effort.
Revolutionizing the cleaning experience at home by combining a vacuum, mop, and steam cleaner into one cordless and convenient device, the Floor One S7 Steam boasts a range of cutting-edge features that make it an indispensable cleaning tool for any household, including:
HyperSteam Technology: With two modes for larger messes or stubborn single stains, steam disperses at a temperature of 284° F to seamlessly sanitize the surface while a soft roller simultaneously cleanses the floor with fresh water.
Smart Sensor Technology: iLoop Smart Technology automatically detects debris and adjusts suction power, water flow, and roller speed, eliminating the need to do so manually, while the interactive LCD screen helps users visualize real-time working status, select operating modes, and more.
Continuous Clean-Brush Washing: The MHCBSTM system efficiently recycles dirty water with a reliable internal brush scraper, continuously washing and rinsing the roller with fresh water at a constant 450 RPMs.
Upgraded Battery: Unlike traditional batteries, an innovative pouch cell design offers three times the lifespan of the appliance, setting a new industry standard that reduces wastage and enhances safety for consistent, reliable performance.
Multi-Step Self-Cleaning: Simply add fresh water, and after one click, the embedded heating system will cleanse the brush roller and tubing thoroughly, while centrifugal drying effectively removes water to prevent recontamination.
Crafted with user convenience in mind, the Floor One S7 Steam is built with a lightweight and self-propulsion design, offering flexibility to clean any hard surface effortlessly and without fatigue. Optimizing use, its enhanced dual-sided edge cleaning closely glides against baseboards or difficult-to-clean corners, and LED lights illuminate the cleaning path to uncover unseen messes.
"We're thrilled to introduce the Floor One S7 Steam to market," said Todd Manegold, General Manager of North America for Tineco. "Highly requested from consumers, this new launch builds upon the capabilities of our best-selling floor washers, adding the ability to sanitize surfaces naturally and effectively with the addition of steam, and reflects our commitment to innovation within the floor care category."
The Floor One S7 Steam Cordless Floor Washer is now available on the Tineco website and Amazon for $649.99. To learn more about Tineco and its full suite of floor call solutions, including cordless vacuums, floor washers, carpet cleaners, and the world's smartest all-in-one vacuum, visit https://www.tineco.com.
About Tineco
Tineco was founded in 1998 with its first SKU as a vacuum cleaner and, in 2019, pioneered the first-ever smart vacuum. Today, the brand has innovated into a global leader offering intelligent appliances across home categories, including floor care, kitchen, and personal care. Tineco is dedicated to its brand vision of making life easier through smart technologies and consistently innovating new devices.
For more information, please visit https://www.tineco.com.

You don't want to miss our latest blog post!