3 Things to Know Before Choosing the Right Floor Washer
03/27/23
by
Tineco Lifestyle Contributor
Introduction
Here comes the age of floor washers – if you don't know what they are, well, basically they're machines to replace traditional mops and scrubbers, making one of the most suffering house-cleaning tasks much easier and more bearable. They give the same, even better, cleaning results on hard surfaces as the traditional cleaning tools, and can cut your cleaning time in half. You may have been considering buying a floor washer of your own, and you'll see plenty of choices in front of you. How can you pick the best one among all of them?
Cleaning efficiency of course, but also pay attention to the streak left
We never want to forget our initial intention of buying a floor washer: to clean our floors. So, how a floor washer can clean your hard floors can the most decisive criterion. You may, therefore, see many floor washers advertising how many RPMs they can achieve, thus demonstrating their cleaning effectiveness. This is important for sure, however, there is another point we should not overlook, which is the dirty water recovery rate of the machine. You never want to see a lot of water streaks left on the floor after you have finished using the cleaning machine. We can tell this from a numerical value: the ratio of the volume of the product's clean water tank and waste water tank. The greater the ratio, the lower the product's wastewater recovery rate. Where would that wastewater go if it is not fully recycled? Remaining on your floors, of course. Please do keep this in mind: floor washers that are able to fully recycle all the wastewater after cleaning are the only ones that can really clean the floor.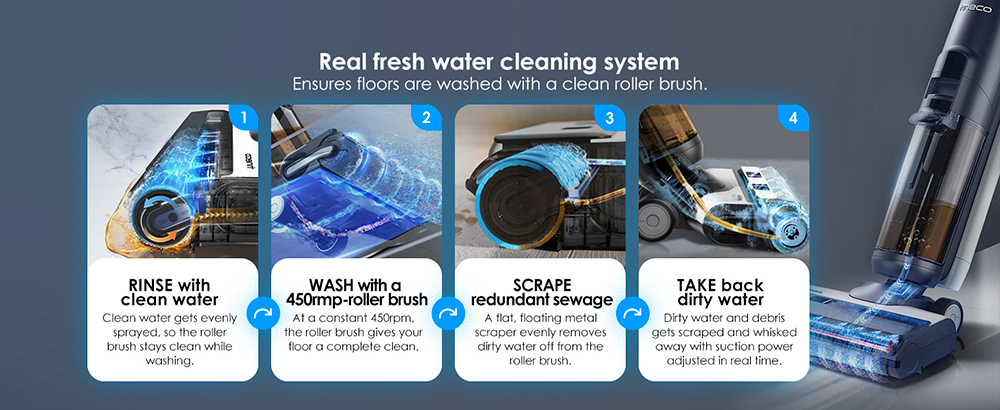 The endurance is very important, but don't just look at the parameters
When buying any cordless product, we pay close attention to one point: its battery life after a full charge. Similarly, when choosing a floor washer, the volume of its water tank is crucial. When cleaning floors, none of us wants to have to recharge, refill and pour water frequently. Thus, we naturally compare the battery capacity, the volume of the clean water tank and the dirty water tank for each option. However, merely looking at these figures shown by the product is not enough. What really affects our experience is the machine's efficiency in using power and water.
For example, TINECO FLOOR ONE S7 PRO is embedded with a smart iLoop system, that senes how dirty your floors are and controls power and water use accordingly. When it detects a high-traffic area with heavy footprints and muds, FLOOR ONE S7 PRO will use more water and stronger power to clean it. When it thinks that an area is relatively clean, FLOOR ONE S7 PRO will relatively use less water and power, saving them for a longer duration. This is what we called EFFICIENCY: making those power and water consumption worth it. Here's the chart comparing the runtime of floor washers with and without the iLoop system.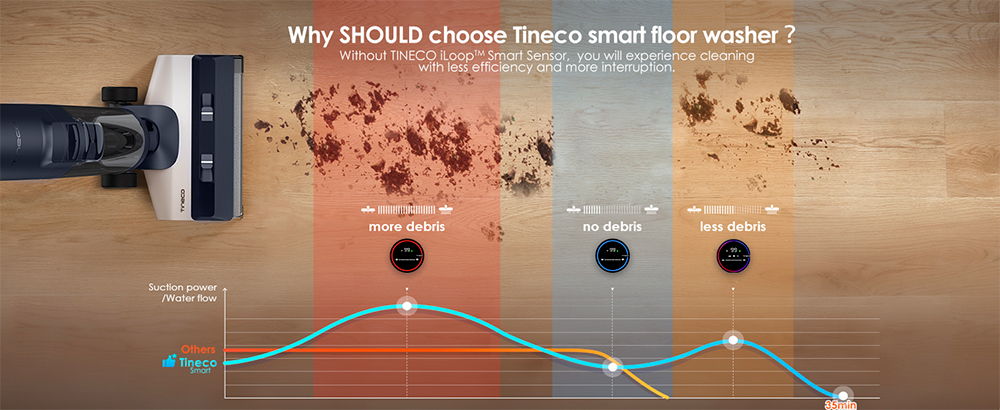 Self-cleaning--really good, but how to dry the brush also matters
If you expect a better user experience, you may want your floor washer to have a self-cleaning feature. We're glad to say that FLOOR ONE S7 PRO can definitely fulfill your demands with its Balanced-pressure Water Flow System. A unique floating scraper will evenly press against the brush to "squeeze" the dirt out, and a steady stream of water will flush the brush and tube thoroughly, ensuring that no spots are left behind. If you expect an even more advanced user experience, some floor washers, including the TINECO FLOOR ONE S7 PRO, can dry their brushes automatically after cleaning, truly freeing you from the annoying maintenance work. When it comes to drying a brush, we can think of many ways, such as using high temperature or hot wind. However, they may be invisible health killers in your house. It's well-known that bacteria can thrive in a warm, wet and dirty environment, and this is exactly what will happen when using high temperature to dry a damp brush. And the wind, which is aimed to blow and dry the brush, will blow the bacteria all around the room. Alternatively, the way FLOOR ONE S7 PRO uses to remove residue is centrifugal drying, which is reliable, effective, and safe, preventing both mold and bacteria from spreading.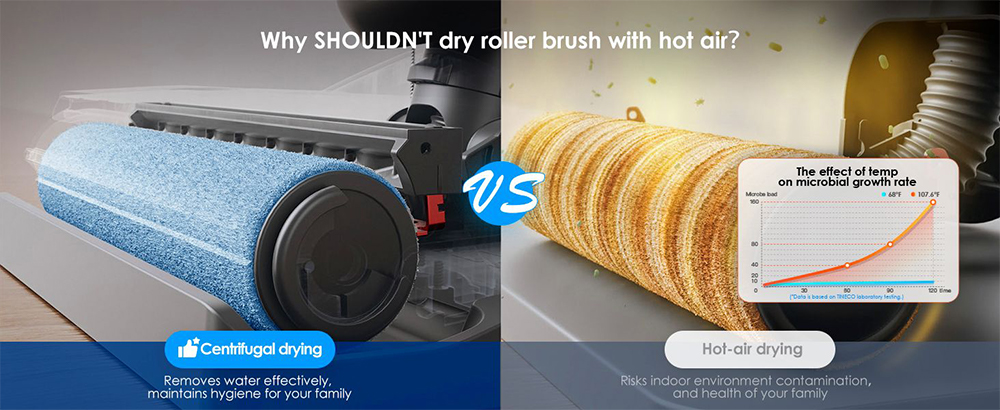 Sum-up!
All in all, when you are looking for a suitable floor washer, the additional features and parameters shown by the merchants are, of course, important, but you need to imagine a specific situation in which it will be used. Only when you know exactly what you need can you make a buying decision that you won't regret.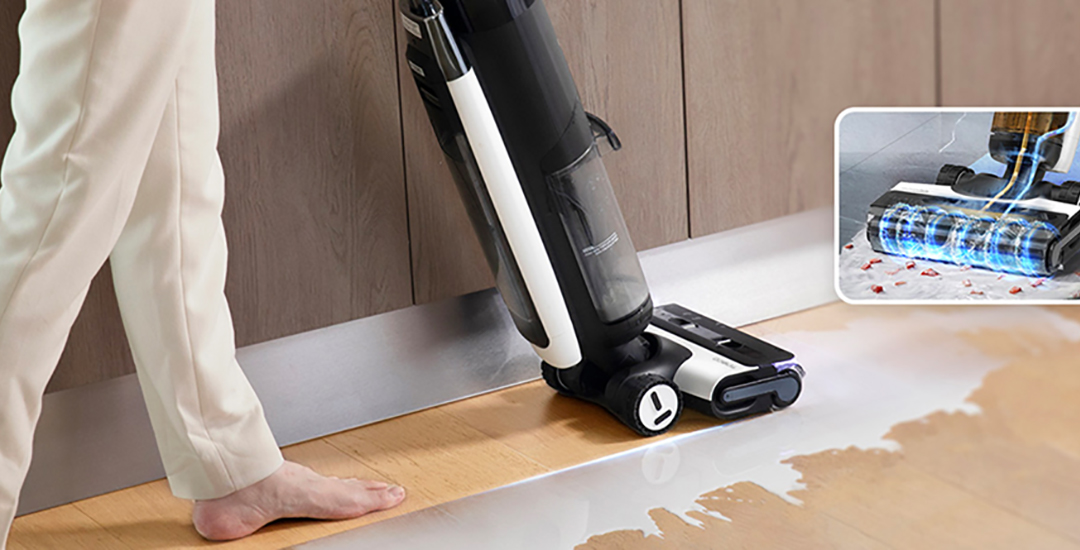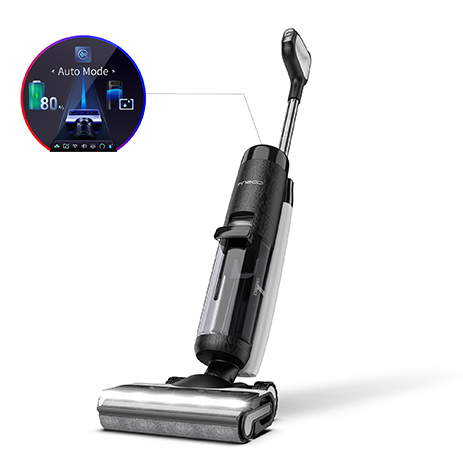 Tineco FLOOR ONE S7 PRO SMART FLOOR WASHER
A new definition of clean: rinsh and wash, weing and clean

You don't want to miss our latest blog post!