Prepare Your Home for Autumn: Room-by-Room Fall Cleaning Essentials
10/25/23
by
Tineco Lifestyle Contibutor
You are probably familiar with spring cleaning, but did you know you should clean your home thoroughly in the fall, too? A clean home is more comfortable and sanitary. Plus, you'll want to be prepared when you have guests over for the holidays.
Cleaning is a tedious task, and reaching for the nooks and crannies can be a pain. Having the right cleaning buddy like a floor vacuum can help you tidy up your home more easily. For your preparation this fall, check out this list of room-by-room fall cleaning essentials.
Fall Room Cleaning Materials
It can be helpful to have a cleaning routine checklist to help you accumulate all of the things you need. Use our cleaning materials checklist to get you prepared for cleaning.
• Vacuum (Floor, Wet-and-Dry)
• Dusters
• Broom
• Dustpan
• Wash clothes
• Glass cleaner
• Floor cleaner
• Bathroom cleaner
• All-purpose cleaners
• Sponges
• Air fresheners
You can also create a cleaning checklist by room. A cleaning checklist by room can ensure you don't miss any steps.
Fall Room Cleaning Checklist
*If you like to get started, download the Tineco Room Cleaning Checklist and print it!
Living Room
• Dust, vacuum and sweep the floor
• Clean mirrors and windows
• Inspect fireplace
• Wash throws and pillows
• Wash baseboards and walls
• Dust furniture & electronics
• Check for drafts
Kitchen
• Clean the sink & kitchen counters
• Clean windows
• Deep clean the fridge
• Degrease the stove and oven
• Clean pantry
• Clean dishwasher
• Scrub the floors
Bedroom
• Make the bed
• Flip mattress
• Change sheets and pillowcases
• Vacuum or sweep the floor
• Clean mirrors and window
• Clean closets
• Arrange wardrobe
Bathroom
• Clean bathtub
• Scrub tiles
• Clean toilet
• Replace the shower curtain liner
• Clean mirrors and windows
• Clean vanity
• Check for leaks
Dining Room
• Wipe table
• Clean light fixtures
• Wash table linens and mats
• Vacuum or clean rugs
• Check for pest issues for wooden tables and chairs
Home Office
• Vacuum or sweep the floor
• Organize folders and papers
• Dust and wipe electronics
• Organize cables and wiring
• Clear out trash
• Donate or recycle things
Entryway or Hallway
• Clean rugs and doormats
• Vacuum and wipe floors
• Check coat closet
• Wipe down doors
• Inspect outdoor light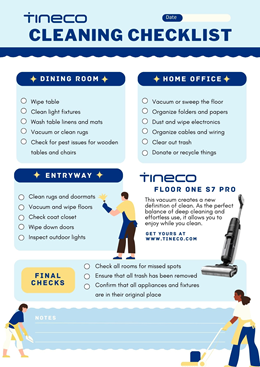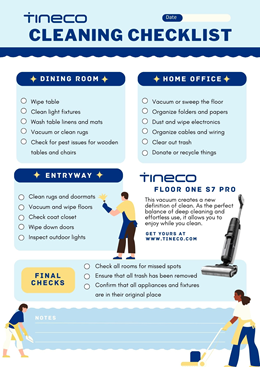 Easily Clean Your House with Tineco
The Tineco vacuum is a crucial tool for your fall house cleaning, providing reliability and high performance to ensure a thorough clean. With a variety of models available, each offering handheld options, you have the right tool for every task, reaching every corner of your home with ease.
CARPET ONE PRO
Effortlessly maintain clean carpets with the CARPET ONE PRO cleaner, the smart carpet and upholstery cleaning machine. Its intelligent sensor gauges the carpet's dirtiness, adjusting soap and suction levels accordingly. With the addition of extra hot water, it delivers an unparalleled clean, ensuring your carpets remain pristine.
FLOOR ONE S7 PRO
The FLOOR ONE S7 PRO floor washer cleans a wide range of floors using one of four different modes: auto mode, suction mode, ultra mode, and max mode. These modes can not only tackle many different types of floors, but they can also ensure the best cleaning. The LCD screen on the floor washer facilitates easy mode switching as needed, enhancing your cleaning experience.
PURE ONE STATION Furfree
Revolutionize your cleaning routine with the Tineco PURE ONE STATION Furfree, designed for effortless cleaning of both carpets and hardwood floors. This smart stick vacuum boasts a suite of features, including:
• 4-in-1 OmniHub
• LED Headlight Brush Head
• ZeroTangle Brush
• Smartphone App Integration
• Tineco iLoop Sensor Technology
• PureCyclone Technology
These features collectively simplify and elevate your cleaning process, making it more efficient and effective.
10 Tips and Tricks for Cleaning Your Home This Fall
Below are 10 additional tips and tricks for your fall house cleaning plan.
1. Start with a Decluttering Blitz
Before beginning your fall cleaning, clear your floors and surfaces. We often accumulate more items than we realize. While many of these items are kept for a reason, start by identifying and removing those you no longer need. Unwanted items can be sold at a garage sale or stored away. For items you wish to keep, simply move them aside to facilitate easier cleaning.
2. Clean Your Gutters
Your home's gutters transport water away from your roof and away from your home, preventing water damage to your roof and your home. However, clogged gutters can lead to standing water on your roof, which may necessitate premature roof replacement. To avoid this, ensure your gutters are clean, which you can do manually or with the assistance of professions.
3. Freshen Up Upholstery
With time, upholstery on couches and chairs can discolor from natural oils, pet stains, and food spills. Using a Tineco CARPET ONE SPOT allows for efficient cleaning of your upholstered items.
4. Dust and Vacuum Efficiently
Homes inevitably accumulate dust and debris. Utilize your Tineco vacuum for quick and easy cleaning. With Tineco's PURE ONE STATION's self-cleaning feature, you can save time during the process.
5. Deep Clean Carpets and Rugs
Carpets and rugs tend to trap dust and debris within their fibers, making cleaning challenging. With the right tools, such as a Tineco carpet cleaner, you can effectively remove dirt and maintain clean rugs and carpets.
6. Revive Your Oven
Expect to use your oven frequently in the fall, especially during the holidays and on chilly evenings. Increased usage necessitates more frequent cleaning. Utilize a degreaser and a coarse scrubber for effective cleaning. Ensure you deep clean it in preparation for safe usage throughout the holiday season.
7. Don't Ignore the Windows
Ensure your windows are clean to enjoy clear views of your yard and greet guests with a neat appearance. Remove fingerprints and diligently clean to prevent the buildup of dust and dirt.
8. Test and Replace Batteries
As the weather cools down, it's crucial to inspect and, if necessary, replace batteries in your home. Regularly check the batteries in your fire and smoke detectors, particularly in the fall and winter when the risk of house fires increases. Also, ensure the batteries in other safety equipment, like flashlights and generators, are functional. Keep extra batteries on hand just in case.
9. Freshen Up the Mattress
Your mattress absorbs your sweat and other natural oils every day. Clean it a couple of times a year, including fall, to keep it fresh.
10. Organize Winter Gear
You need to put away your summer goals and swap them out with your winter clothes. As the crisp autumn air gradually transitions into the biting cold of winter, it's time to reorganize and prepare your wardrobe for the upcoming season. Begin by meticulously storing away your lightweight summer garments, ensuring they are clean and neatly folded or hung to preserve their quality for the next year. Then, reintroduce your collection of winter clothes and gear into your closet.
Get Your Room Clean and Tidy This Fall
Tineco is the leading name in cordless, smart home-enabled vacuum products. Get the best wet vacuum and carpet cleaners on the market, so you'll never skimp on your home's cleanliness and sanitation when you have the right Tineco product for the job.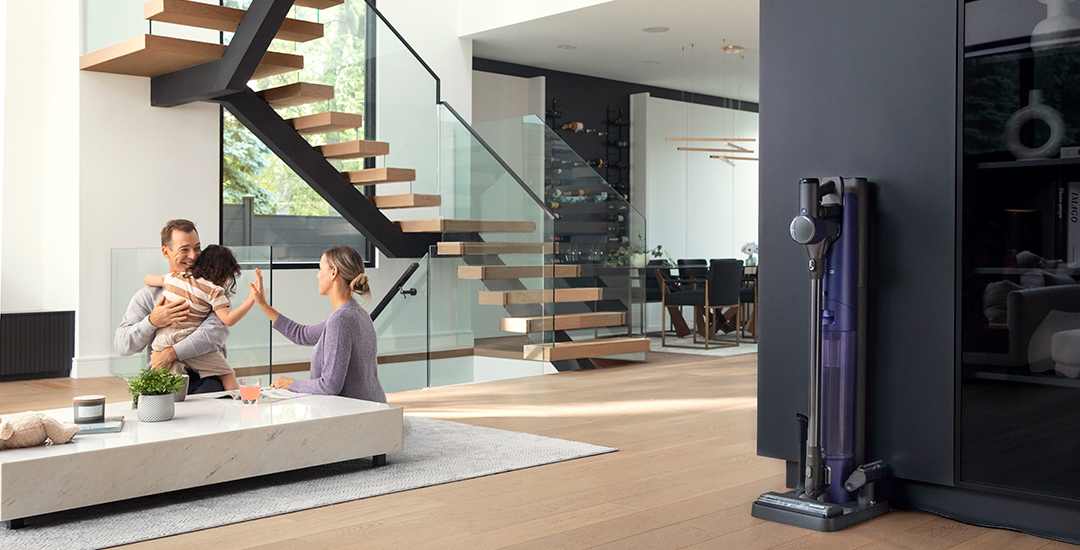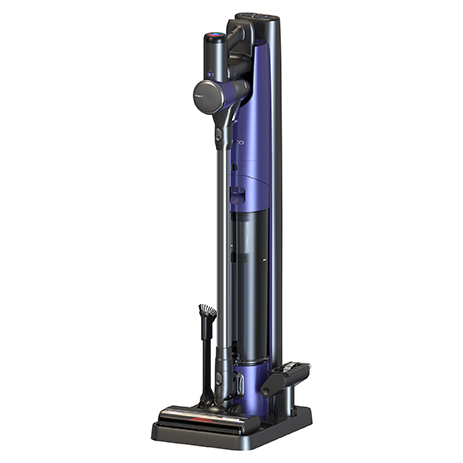 PURE ONE STATION FURFREE Smart Vacuum Cleaner
Revolutionize your cleaning routine with the 4-in-1 OmniHub.

You don't want to miss our latest blog post!