Tineco's Fall Prime Day-Six proposals to make cleaning even smarter
Milan, 9 October 2023 - In view of Amazon's highly anticipated Fall Prime Day, on 10 and 11 October Tineco returns with unmissable offers on various devices from the Floor One, Pure One and Carpet One lines. In particular, the products affected are the Floor One S5 Pro 2, the Floor One S5 Combo, the Floor One S5, the Pure One S15 PET, the Pure One Air and the Carpet One.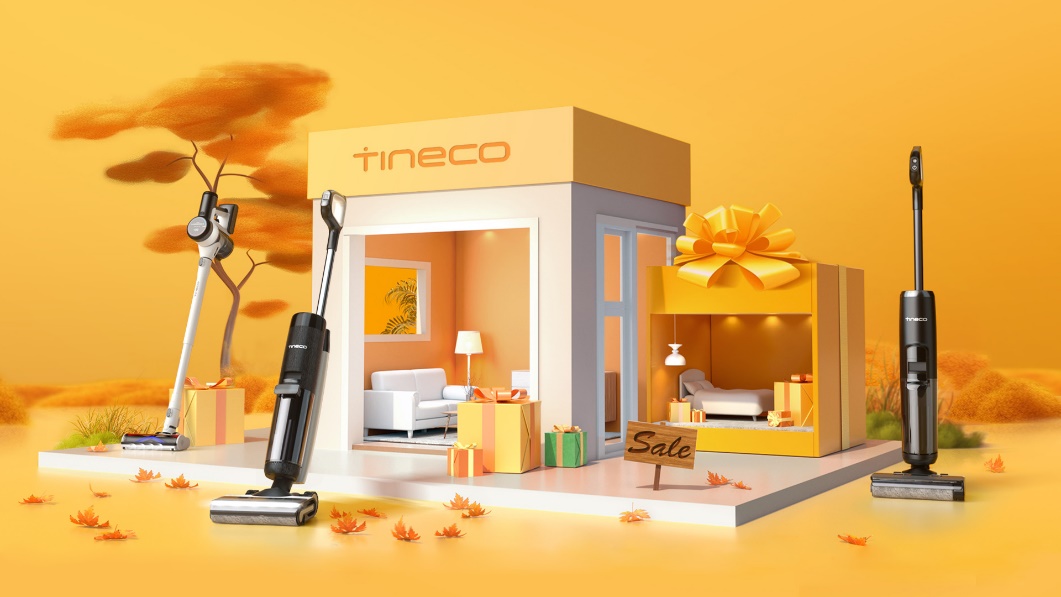 FLOOR ONE S5 – the ideal floor cleaner line for lovers of order
FLOOR ONE S5 and FLOOR ONE S5 Pro 2: for thorough cleaning
These are two models of floor cleaners which, thanks to their three main features (the running water cleaning system, sanitization-proof self-cleaning and drying and the iLoop Smart Sensor technology) are able to meet any need. Specifically, the device boasts large water tanks (dirty water tank is 0.8 L and clean water tank is 0.7 L) but the distinctive feature of the model is the presence of the iLoop sensor capable of automatically regulating the water flow, suction power and roller speed based on the type of dirt. Finally, like all the models in the FLOOR ONE line, S5 is designed to carry out self-cleaning, ensuring brushes are always clean and eliminating any residues of dirt and unpleasant odors while it is charging on its 3-in-1 docking station .
The FLOOR ONE S5 is available on Amazon on October 10 and 11 at a price of €389 (original price: €519).
The FLOOR ONE S5 Pro 2 is available on Amazon on October 10 and 11 at a price of 439€ (original price: 629€)
FLOOR ONE S5 COMBO - a device for every situation
Dedicated to all those who cannot give up cleaning but have little space to store their appliances, Tineco comes to their aid by offering the practical 3 in 1 FLOOR ONE S5 Combo. The key word is practicality, as the Tineco model not only combines the characteristics of a vacuum cleaner and a floor washer but also transforms itself into a practical handheld vacuum cleaner capable of quickly and effectively cleaning all kinds of surfaces such as sofas, mattresses and blankets to remove animal hair, dust, crumbs and dirt in general.
The Floor One S5 Combo is available October 10 and 11 on Amazon at a price of €349 (original price: €449)
Tineco PURE ONE: the ideal vacuum cleaners for every home
Tineco PURE ONE S15 Pet – the best ally for pet owners
The PURE ONE series is ideal for all pet owners: PURE ONE S15 Pet is equipped with a roller brush with ZeroTangle technology, capable of preventing unpleasant tangling, with a dual-comb design combined with oblique bristles, capable of separating and remove the hair from the roller inside the tank. PURE ONE S15 also uses PureCyclone technology, which effectively separates air and dust.
PURE ONE S15 boasts a tank that is easy to clean: simply press the button next to the handle, facilitating the experience of pet owners who find themselves cleaning the surfaces of their home often several times a day.
Its iLoop sensor is able to automatically set the suction power based on the dirt, thus optimizing autonomy.
The PURE ONE S15 Pet is available on October 10 and 11 on Amazon at a price of €319 (original price: €499).
Tineco PURE ONE AIR – perfect for daily cleaning
PURE ONE AIR weighs only 1.8kg, and is the practical and handy vacuum cleaner that perfectly accompanies users in daily cleaning. Thanks to its PureCyclone technology it effectively separates air and dust, eliminating any residue from surfaces.
Its ultra-quiet operation, only 75dB, also makes it perfect for morning or evening cleaning, ideal for not disturbing the neighbors.
Furthermore, it guarantees versatile cleaning and allows you to reach every corner thanks to its many accessories.
The PURE ONE AIR is available on October 10 and 11 at a price of €139 (original price: €199) on Amazon.
CARPET ONE: everything a carpet cleaner can offer
For all those who are dissatisfied with their vacuum cleaner and do not know how to effectively clean their carpet, Tineco offers the Carpet One. Thanks to the suction power of 130 AW and the motor power of 1300 W, the carpet cleaner guarantees high-power suction and the removal of stains and deep dirt, without leaving water residues and eliminating unpleasant odors. Another note of merit that will make cleaning the carpet even easier is the presence of PowerDry technology, which through the release of hot steam (75°C) allows the surface to be dried, thus eliminating any water residues. Throughout the process, the user will be informed of the drying status thanks to the DrynessMeter on the display. The four operating modes (Max mode, Auto mode, Dry mode and Accessory mode), combined with its compact dimensions, its silence and simplified maintenance make it the perfect product.
The Carpet One is available on October 10 and 11 at a price of €319 (starting price: €519) on Amazon.
Tineco
Tineco was founded in 1998 with the launch of its first vacuum cleaner and has been driving innovation in the smart appliance category ever since. Tineco is dedicated to designing quality, useful, easy-to-use and smart home electronic products. With the PURE ONE range of vacuum cleaners and the introduction of the first line of smart washer/dryer vacuum cleaners on the market - the FLOOR ONE series - Tineco has quickly become a leading company in the smart appliance category.
Contact

You don't want to miss our latest blog post!